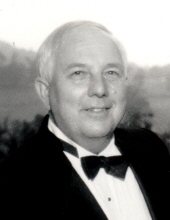 Obituary for Lowell "Bill" Robinson
Lowell "Bill" Robinson, 76, a lifelong resident of Hinton, passed away December 30, 2017.

Bill was born on August 21, 1941, in Harrisonburg, Va. and was the son of the late Letcher Samuel and Ruth Spitzer Robinson.

Bill graduated from Turner Ashby High School in 1959 and from Massanutten Vocational Technical Center in 1972 with an apprenticeship in Millright Pipefitting.

Bill worked at Walker Manufacturing Co. (now Tenneco) from 1961-1978. From 1978-2003 he worked at Merck and Co. and retired as an HVAC mechanic. He also was a member of the West Rockingham Ruritan Club since 1971 with perfect attendance. Bill served as President, Vice President, Treasurer, and Director. Bill was named Ruritan of the Year 4 times and Rockingham District Ruritan of the Year in 2012. The Ruritan Handbook was dedicated to Bill in 1993. Bill coached youth league baseball, women' s softball and organized summer fast pitch league held at the West Rockingham Ruritan Park. In the past, Bill served as District 3 representative on the Rockingham County Recreation Commission as Vice Chairman. He helped get the West Rockingham Food pantry started and also helped organize the Ruritan lawn parties, suppers and other fundraising activities. Bill was a member of the Mt. Horeb United Methodist Church and president of Mt. Horeb Cemetery Company.

On February 6, 1965, Bill married the former Patricia Lee Myers, who survives.

He is survived by a daughter, Lori Robinson of Hinton and a son, Wade Robinson and wife, Maria of Harrisonburg; his two precious grandchildren, Lance and Brooke Robinson of Harrisonburg; a brother in law, Dale Funkhouser and wife Dawn of Edinburg; a half -brother, Sheldon Ours, who preceded Bill in death. Also surviving are members of his extended family.

Bill enjoyed spending vacations at the beach and spending time with his friends every morning at the Hinton Market. He was a man who had a deep love for his family, a dedication to his church, the Ruritan Club and commitment to helping others.

The family wishes to thank Dr. Jim Haley and staff of Rockingham Family Physicians, the staff of Sentara RMH Medical Center and Hahn Oncology Center and the staff of Sentara Palliative care. Also, the many friends who called on Bill during his illness.

The family will receive friends from 6 until 8PM Thursday, January 4, 2018, at Johnson Funeral Service in Bridgewater.

A graveside service will be conducted 12:00 PM Saturday, January 6, 2018, at Mt. Horeb Cemetery in Hinton. A memorial service will follow at 1:00 PM in the Church with Pastors Isaac Harper and Gerald Harper officiating.

Any memorial contributions can be made to the Clover Hill Volunteer Fire Co., 2100 Clover Hill Rd., Dayton, VA 22821 or the West Rockingham Ruritan Club, c/o Mike Webster, 5161 Sandbrier Lane, Dayton, VA 22821.
Previous Events
visitation
Johnson Funeral Service - Bridgewater Location
208 South Main Street
Bridgewater, VA 22812
graveside service
Mount Horeb United Methodist Church Cemetery
422 Hinton Road
Dayton, VA 22821
memorial service
Mt. Horeb United Methodist Church
422 Hinton Road
Dayton, VA 22821
Memorial Contribution
Clover Hill Fire and Rescue
2100 Clover Hill Rd
Dayton, VA 22821
West Rockingham Ruritan Club
c/o Mike Webster
5161 Sandbrier Lane
Dayton, VA 22821