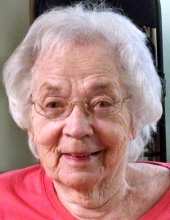 Obituary for Catherine F. Wampler
Catherine F. Wampler, 95, of Bridgewater, passed away Wednesday, February 7, 2018 at Bridgewater Home.

Catherine was born in Dayton, VA, on August 29, 1922, a daughter of the late Emma (Landis) and Walter Earl Flory.

Catherine graduated from Dayton High School, class of 1940. She was a lifelong member of the Dayton Church of The Brethren where she was active in serving her church in many roles, teaching Sunday School in the Jr. High Department, also serving as advisor in the Jr. High and youth groups, and teaching Bible school for a number of years. She was a member of the friendship Sunday School class, and the fellowship women's circle. Catherine took an active part in the Bridgewater Little League program along with her husband for 17 years. She loved cooking, had a special love for gardening, canning and flowers. She was employed for 15 years at Wetsel Seed Company before retiring. She was a loving mother, grandmother, and great-grandmother and was always proud of her family.

Catherine was united in marriage on June 12, 1942, to J. Weldon Wampler, who preceded her in death on July 29, 2016, after 74 years of marriage.

Catherine is survived by a daughter, Elaine W. Huffman and husband, Rufus of Bridgewater;
two sons, Jodie Wampler of Broadway, and Keith Wampler and wife, Jeannine, of Fredericksburg; two sisters, Margaret Erbaugh, of Bridgewater, Elizabeth Kinzie and husband, Bill of Richmond; sister-in-law, Lucille Flory of Bridgewater; nine grandchildren and eight great-grandchildren.

She was preceded in death by two brothers, Raymond William Flory and Jacob Carson Flory; two sisters, Ruth Rhodes and Evelyn Texiere; daughter-in-law, Phyllis D. Wampler.

The family will receive friends from 6 until 8PM Friday, Feb, 9th, at Johnson Funeral Service in Bridgewater.

A memorial service will be conducted 3PM Saturday, Feb. 10th, at Dayton Church of The Brethren, with Rev. Kevin Daggett officiating. Burial will be private.

Memorial contributions may be made to Dayton Church of The Brethren, P.O. Box 236, Dayton, VA 22821 and/or Bridgewater Home, 302 N. Second Street, Bridgewater, VA 22812.

Online condolences may be shared with the family at www.johnsonfs.com.
Previous Events
visitation
Johnson Funeral Service - Bridgewater Location
208 South Main Street
Bridgewater, VA 22812
memorial service
Dayton Church of the Brethren
202 Main Street
PO Box 236
Dayton, VA 22821
Memorial Contribution