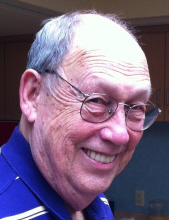 Obituary for Robert Erwin Davis
Robert Erwin Davis, 85, formerly of Berwyn, PA, passed away on Monday, June 4, 2018 in Harrisonburg, VA.

He was born in Uwchlan Township, PA on December 7, 1932 and was the son of the late Norman Robinson and Mildred Elizabeth (nee Peterman) Davis.

Robert was a former member of the Church of the Good Samaritan in Paoli, PA, and recently belonged to Bridgewater United Methodist Church in Bridgewater, VA. A graduate of Villanova University, he worked as a mechanical engineer, and most recently served as the general manager for Howie Corporation in Norristown, PA for 25 years. He was the first scout awarded with the rank of Eagle in the Frazer 76 Boy Scout troop. He served in the Air Force as a photographer in Alaska. After retirement, Bob continued helping others by driving for Surrey Services and doing tax returns for many of his acquaintances.

Robert can best be remembered as a devoted husband and loving father. He shared boundless love for his children and grandchildren. Friends and family will remember him as a selfless man who always had a positive and happy spirit. He viewed each day as a gift and embraced it fully. He made an upbeat and memorable impression on everyone he met.

He enjoyed spending hours in his workshop working on projects and tending his gardens of vegetables and a wide variety of beautiful dahlias.

He was united in marriage on January 31, 1959 to Janetta Lee Davis, the love of his life.

Surviving are three sons: Steven and wife Ronna of Ottsville, PA, Andrew and wife Rita of Rockingham, VA, Richard of Limerick, PA, grandchildren Seth, Abigail, and Zachary of Rockingham, VA, sister Linda of West Chester, PA, brother Lawrence and wife Linda of Mechanicsburg, PA, and many nieces and nephews.

He was preceded in death by his wife Janetta, brothers Emmett and William, and sisters Arlene and Thelma.

A memorial service will be held at The Church of the Good Samaritan in Paoli, PA at 11:00 AM on Friday, June 15, 2018.

Online condolences may be sent to the family at www.johnsonfs.com.
Previous Events
memorial service
The Church of the Good Samaritan
212 West Lancaster Avenue
Paoli, PA 19301