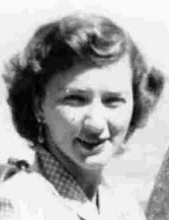 Obituary for Betty Wayne Wilberger Harshbarger
Betty Wayne Harshbarger

MOSCOW, Va. – Betty Wayne Wilberger Harshbarger, 95, passed away on June 23, 2018. Betty was born in Moscow, Virginia, on October 4, 1922. She was the third daughter of Emmett and Edna (Houff) Wilberger.

Betty was proud to be a life-long resident of Moscow, never having moved further than "across the road" from where she grew up. She graduated from North River High School and married Rollin Harshbarger on February 2, 1946. Together she and Rollin owned and operated R.M. Harshbarger Construction Company and ran a country store. She was active in the area as a businesswoman and a community leader, having served at one time as an Augusta
County Justice of the Peace and a poll worker during elections. She also loved antiques.
Betty was a life-long member of Mt. Solon United Methodist Church until it closed and then was a member of the Bridgewater United Methodist Church. She was a very active member of the women's church group locally and in the district. At one time she was the president of the Women's Society of Christian Service with the Mt. Solon church.

Preceding her in death were her parents, her two sisters and best friends, Katheryn Craun and Mildred Wray, her husband Rollin Harshbarger, and her son-in-law James Smith.

She is survived by her daughter Pamela Smith, of Martinsburg, W.Va., as well as grandsons Calvin Smith and Jacob Smith and his girlfriend India Watson, all of Martinsburg, WV, step grandson, Gabe Sales-Smith and wife Donna Sales-Smith; two step great grandchildren, Gabriella Sales-Smith and Ethan Sales-Smith, all also of Laytonsville, MD.

Betty will be buried at Salem Lutheran Church Cemetery in Mt. Sidney beside her husband Rollin, who passed away in 1999. A graveside service will be held at 5 p.m. on Wednesday, June 27, 2018. Following the graveside service a reception will follow in the church fellowship hall. All are welcome to attend the burial and reception.
Previous Events
graveside service
Salem Lutheran Church Cemetery
417 Salem Church Rd
Mt. Sidney, VA 24467