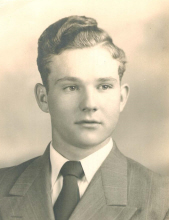 Obituary for Howard Nelson Koiner
Howard Nelson Koiner, 86, of Weyers Cave, died Thursday, June 28, 2018, at Bridgewater Retirement Community in Bridgewater, Virginia.
Mr. Koiner was born August 30, 1931, at his family homeplace on North River, near Weyers Cave, and was the only son of the late Howard Earman and Mattie Ruth Funkhouser Koiner of Weyers Cave.
On Sept. 4, 1953, he was married to Catherine Ann Liskey, at Rockingham Charge Parsonage, by the late Rev. L.O. Carbaugh. He was a member of Friedens United Church of Christ, Mount Crawford, where he had been a youth leader, a consistory member, deacon, and active in the Senior Citizens.
He graduated from Weyers Cave School in 1949. He farmed from a young age into the early 1990's, and worked at American Safety Razor, in Verona, for 34 years. Mr. Koiner was the co-owner and manager of Hiddenacre Greenhouses until he retired in January of 1998. He and his wife participated in the Harrisonburg Farmer's Market for 22 years and he was a long time member of the Mt. Crawford Ruritan Club. He was a loving husband, father, grandfather, great-grandfather, and he never met a stranger.
He was preceded in death by his wife, Catherine Ann Liskey Koiner, and one daughter, Peggy Koiner Hylton. He is survived by daughter, Patty Dove of Dayton; two sons, Michael Koiner and wife, Deanne E. Koiner of Weyers Cave and James Koiner and Judy Slusher of Weyers Cave; and by six grandchildren, Daniel Hylton and wife, Katie E. Hylton, Amanda G. Hughes and husband, David Hughes, Mary Beth Landes and husband, Jason Landes, Alvin Clay Dove III, Stephanie Moats and husband, David Moats, and Michael Alexander Koiner; two great-grandsons and six great-granddaughters; sister, Charlotte Hopkins and husband, Edward.
A memorial service will be conducted at 2 PM Sunday, July 1st, at Friedens United Church of Christ, Mount Crawford, with the Rev. Doyle Payne officiating. Burial will be private at St. Paul's Cemetery, Weyers Cave, with Rev. Doyle Payne officiating.
The family will receive friends at the Johnson Funeral Service, Bridgewater, on Saturday, June 30th from 4-6 p.m.
In lieu of flowers, contributions may be made to the charity of your choice.
Previous Events
visitation
Johnson Funeral Service - Bridgewater Location
208 South Main Street
Bridgewater, VA 22812
memorial service
Friedens United Church of Christ
3960 Freidens Church Road
Mount Crawford, VA 22841
Rev. Doyle Payne officiating. Burial will be private.
Memorial Contribution