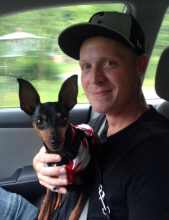 Obituary for Paul Ryan Kleinholz
Paul Ryan Kleinholz, 37, of Harrisonburg, VA passed away Sunday, July 15, 2018 at his home.

He was born in Cleveland, OH on October 9, 1980, a son of Pamra Susan (Dean) McElroy and Carl David McElroy, of West Salem, OH.

Paul was a delivery driver for Harrisonburg Glass and Metals and loved working with his co-workers. He was a friend to everyone he met, and his heart was always in the right place and focused on others.

Surviving in addition to his mom and dad is his "twin" brother, Carl Kleinholz and sister-in-law Sara Skufca, of Menter, OH; two special cousins, Zack Dean and Adam Dean and grandfather, Pete Dean, special friends, Sean Roche and Nick Duncan and his love Samantha, several aunts, uncles and cousins.

A celebration of Paul's life will be held at a later date at his mom and dad's home in Cinnamon Lake, OH.

Online condolences may be sent to the family at www.johnsonfs.com.